New Website
We are very excited to see our new website up and running to help kick off to a great year in 2022! You can read more about our fields of expertise in our latest press release.
Amplitude
Amplitude offers innovative laser solutions for life sciences and imaging applications combining state-of-the-art laser specifications required for cutting edge scientific applications with the robustness and ease of use required by the most demanding medical and industrial environments.
To increase Raymax Applications competences, Dr Cédric Chaminade joined the Amplitude R&D engineer from France for the training on a new laser system being installed and commissioned at the Queensland Brain Institute at UQ. The Satsuma Niji has been customised to fit the lab and research requirements. It is a compact system based on the rugged Satsuma femtosecond laser feeding the OPO (Optical Parametric Oscillator, sitting on top of the laser) which converts the frequency (1,030nm) to two outputs of different frequencies. The frequency selected by the Brain Institute for their Satsuma Niji are 940nm and 1,140nm. Each would be used with different fluorophores in their research of brain activity in Zebrafish. (Different genetically modifications in zebrafish make them fluoresce under 2P-imaging.)
To increase the odds of 2-photon absorption, higher peak power produces more photons per pulse, giving a greater chance of 2-photon absorption, and so higher resolution in 2-P imaging. The pulse width is kept short to keep the average power low and not burn the Zebrafish. Professor Ethan Scott and Dr Itia Favre-Bulle of the Brain Institute will be using these 2P-imaging techniques with their new Satsuma Niji in their research.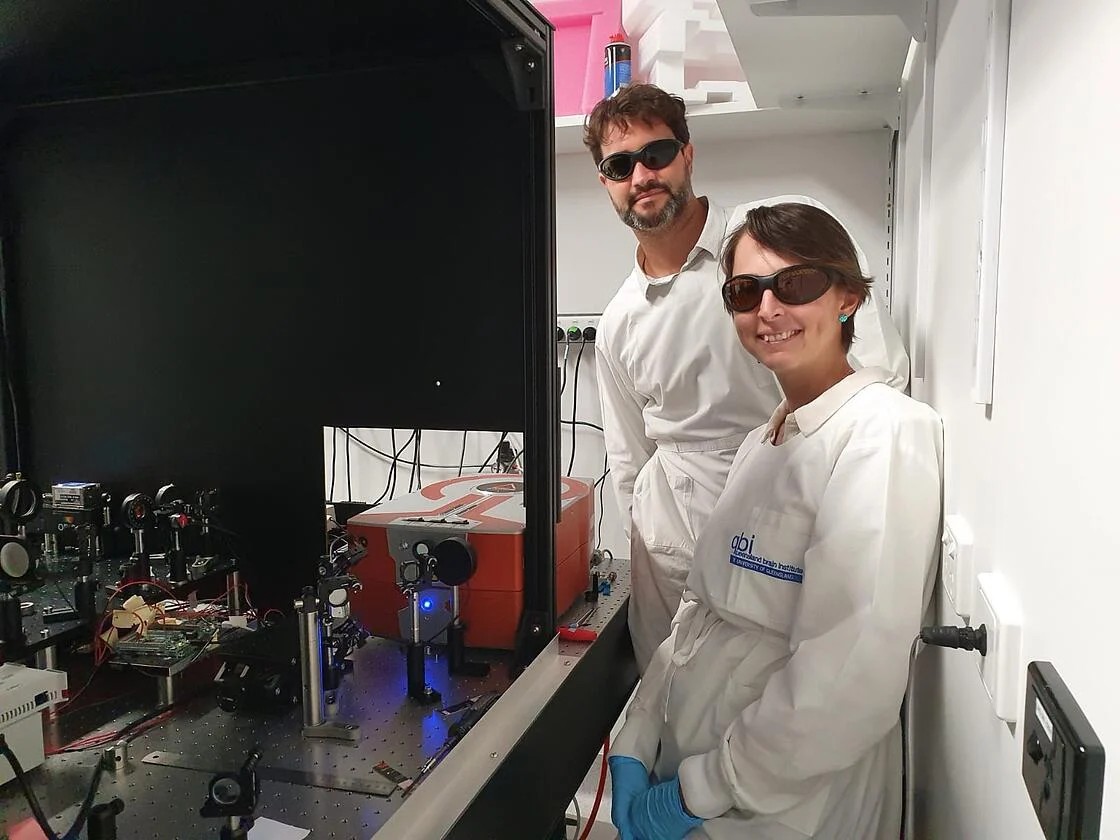 Dr Cédric Chaminade in the lab with Dr Itia Favre-Bulle at QBI
Lightmachinery
LightMachinery offers CO2 and excimer lasers, spectrometers and optics.
Carbon dioxide lasers are suitable for marking, materials processing, wire-stripping, drilling and non-destructive testing in semiconductor, automotive, aerospace and packaging fields.
Excimer lasers are suitable for state-of-the-art materials processing, cutting, drilling, pulsed laser deposition, wire stripping, chemical vapour deposition, LIDAR and writing Fiber Bragg Gratings.
Spectrometers: Setting the new standard for range, really high resolution and speed. Choose from a standard range or a customised spectrometer to meet your application needs.
Optics: Fluid jet polishing is turning the world of optical fabrication upside down. LightMachinery can routinely create near perfect optical components using this cost effective, computer controlled technique.
OPTEC for Micromachining
OPTEC Laser Systems is a leading manufacturer of excimer laser micro-machining systems. Excimer lasers offer photolithography, laser engraving, cutting and patterning for the production of modern smartphones, or to increase the surface area to boost lithium battery storage capacity. OPTEC lasers allow Raymax to provide our clients with standard or custom 'made-to-measure' laser systems to suit the express needs of each company.
Civan Lasers
Civan Lasers provides next-generation lasers for next-generation material processing for industrial manufacturing. The CIVAN Dynamic Beam Laser (DBL) allows manufacturers to quickly tailor the welding process to the application, with the ability to control beam shape, beam sequence, shape frequency, and focal depth at MHz speeds without any moving parts.
Australian Manufacturing Week
Raymax will be at Australian Manufacturing Week, from 7 to 10 June 2022. Come and visit us at Booth MS35.